I was joking around with a friend one day and told him that I would love it if someone would go through all those deals and just tell me the best ones so I don't have to look through twenty-plus emails to find the gems. Ironically, I ended up deciding to do myself what I was trying to avoid :) Every day (like most of you!), I receive multiple emails from deal sites like Groupon, Living Social, Amazon local... just to name a few. I am hoping to highlight the best from these site including many more. To kick this blog off, I first want to say that these are non-sponsored posts. I love the city I live in and am always trying to find ways to share some favorite local events and explore the city. Also, if I come across a good deal, I would like to share that as well. Here is what I have come up with today. Check these out and let me know what kind of deals that you would like to see more of. Also, I plan to start posting some of my favorite picks of things to do for the week. If you hear about something great going on, let me know!
Deals for 5/18/2012
1. The Westword Music Show Case $23 Regularly $49 for GA
I have gone to this showcase the past 3 years and it is one of my favorite music showcases around! I recommend the experience, at least once, to just about everyone I know. I would be happy paying full price to go, so I am super excited to see this deal. There are a 150+ bands playing in 15 venues on June 23rd and it is an all day event. If it's your first time going, I would recommend researching which bands you want to see and plan ahead. I have discovered a new band that I love every time I go! Denver has an amazing local music scene. Some of my favorites include Achille Lauro, The Swayback, A. Tom Collins, Snake Rattle Rattle Snake, and BLKHRTS. Here is a link to a list of the artists playing -
Westword local bands
Voice Daily Deals - Westword Music Showcase
2. Organic Produce Delivered to Your Door for 50% Off
Produce can get downright pricey if you buy a lot of it. This deal from Mile High Organics will provide you with some of the best produce around for a lot less than you would normally spend at the grocery store. I will very soon be acquiring a Vitamix and I think that this deal might come in handy ... just sayin'.
Groupon - Mile High Organics
3.
Japoix Restaurant & Lounge $25 for $50 on Food and Drink
My

apologies but this deal is ending in 5 hours so you might want to check it out sooner than later.

Japoix

is an Asian/ French fusion restaurant. Sounds weird I know, but everything that I have had there is really good! My favorites are the Street Tacos (which are more like stuffed wonton crisps

btw

) and the
Bao Bun Sliders. I have lately been craving Ramen, and, no not Top Ramen, but the good kind with eggs, tender noodles, and lots of veggies. So next time I go, I'll give theirs a shot. I did have one strange beverage here called the Electric Kiss... wait no it's called the Electric French Kiss! It is bright blue and there is a little flower (some type of mum) that you bite into and then take a drink. My entire mouth was tingling; a very bizarre feeling (different from going to the dentist). I can't say if I liked it or not, but I did enjoy the new experience.
Living Social - Japoix
4.Task Force
46-Piece Home Tool Set for $5 Bucks Through 5/18
This set normally sells for $20. I have been known to be handy, and I sure hate it when I am looking for
pliers
or scissors and can't find a pair (my fiancee thinks scissors aren't usually considered a handyman's tool, but they are to me!).
Lowes - Task Force 46 piece tool set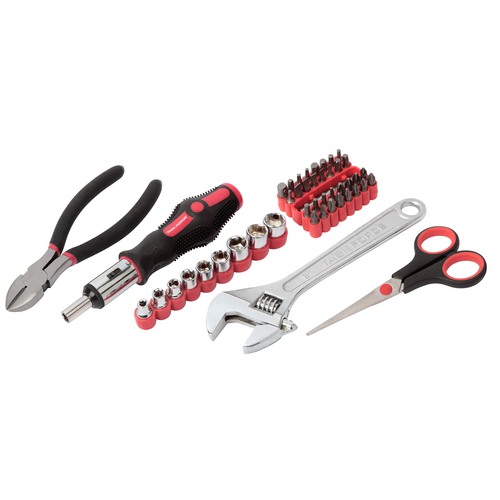 5.

Pick Two Subscriptions for $10!
As I am a sucker for science and architecture I'm sure that you can guess which two I am going to pick.
Discount Magazine subscriptions - Pick 2 for $10